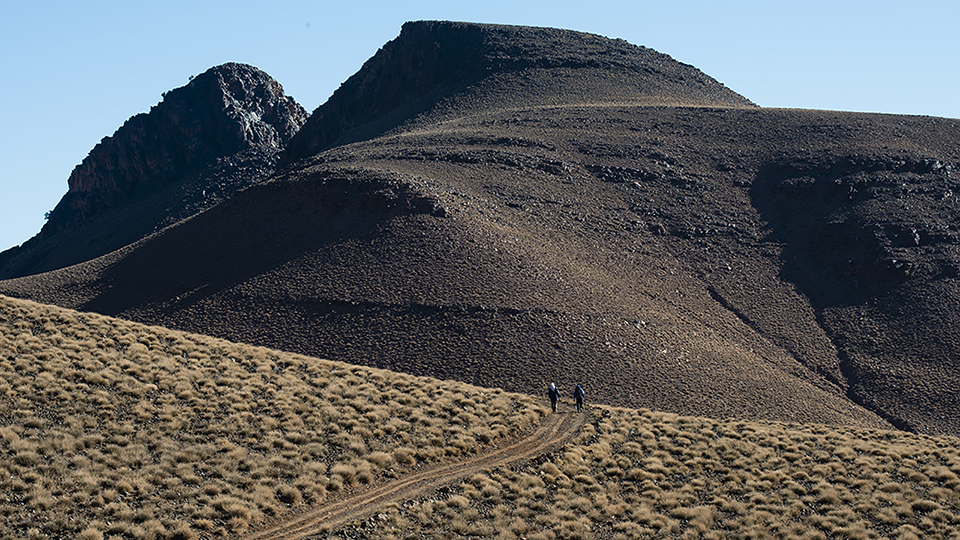 Scenic mountains, rocks, and ravines in the semi-desert of Saghro
In the remote and mountainous semi-desert of Saghro, we experience rough and beautiful multicolored mountains and many fascinating rock formations. We walk over high mountain passes, through narrow ravines, in dry riverbeds, and past nomad settlements. The barren landscape is sparsely populated, but in places, we pass small Berber villages surrounded by terraced fields and groves of trees.
The tour day by day
THE TOUR DAY BY DAY
Day one: Marrakech – Bab n'Ali
We leave Marrakech and the flat country behind us for a full-day drive towards the mountainous semi-desert of Saghro. The road winds its way up to the Tizi n´Tichka Pass at 2 260 meters where we have wide vistas over the surrounding landscape. Our drive continues through a beautiful valley with villages scattered over the mountainsides. Soon fantastic scenery opens up before our eyes, including Jebel Toubkal which is North Africa´s highest mountain at 4 167 meters, Jebel Siroua at 3 304 meters, and the M´Goun massif with its summit at 4 068 meters.
After passing Ouarzazate, nicknamed "the door of the desert", and the green oases of Aït Saounes we arrive in N'kob, the gateway to southern Saghro. From here we continue following a small gravel road into the heart of Saghro. On our first night, we stay in a guest house about 1 200 meters close to the fascinating rock formation Bab N'Ali, towering in splendid isolation nearby. In the evening we meet up with our mule drivers and our cook.
Day two: Bab'n Ali – Taolaoalt (approx. 6 trekking hours)
On the first day of our trek, we start following a small gravel road through the Achebesch Valley. The road is sparsely trafficked, but a regular minibus makes it possible for the few people living in Saghro to get to the market once a week. Perhaps we meet a nomad, nowadays riding a motorbike rather than a mule.
We walk past almond trees and palm trees growing beneath the magnificent mountainside of Tazlout, and then pass the village of Ichfaonnirrarioun. In the Tizilit Valley, we walk past green cultivated patches in an area with several small villages. In some places, we follow a dry riverbed surrounded by barren mountains and we pass a mosaic-like rock wall where fascinating stone faces and fantasy figures can be imagined.
After a short distance through a small ravine, we continue slightly upwards until we reach a plateau where magnificent mountains come into sight, their craggy peaks and rough mountain sides resembling petrified lava streams. We pitch our camp for the night in this stunning and arid landscape close to the village Taolaoalt at 1 300 meters.
Day three: Taolaoalt – Issemdal (approx. 6 trekking hours)
Today we continue our trek through the Taolaoalt Valley. We alternate between walking in a dry riverbed and on a small lonely gravel road bordered by fruit trees. In the next village we pass several interesting wells, some of them still in use, others deserted.
We walk on towards the Bearded Mountain on a small path and continue traversing the mountain slope in a barren landscape up to the pass at about 1 600 meters. Up here we are treated to great views over the mountains Tamoulin and Tarroutt-Tazgouart, one of them beautifully terracotta colored, the other with a striking green and white peak surrounded by a ring of black rocks.
We walk downhill towards a small oasis and then turn upwards again to the next pass at about 2 300 meters. The mountains shift in a spectrum of beautiful colors in the afternoon sun, and behind us, the elongated mountain crests fade to blue. The last section up to the pass takes us through another small ravine, and on the other side of the pass, a landscape with softly sculptured mountains unfolds. After a short descent, we reach our campsite at 2 200 meters in Issemdal Valley, not far from a small nomad settlement.
Day four: Issemdal – Bou Gafer (6 to 7 trekking hours)
Our trek continues over a plateau encircled by rolling mountains. After a comfortable walk on a small gravel road, we reach the Tizi n'Ferent Pass where we have a wonderful view over the mountains to the east.
On our way down from the pass we approach the fascinating rock Oulentferent, a massive monolith standing alone on a mountain slope in the beautiful Tiferent Valley, the rugged rock brings the image of a crocodile back to mind. The path takes us deeper and deeper into the narrowing valley, where we pass small terraced patches with almond trees and a few permanent settlements inhabited by nomad people.
Down on the valley floor at about 1 800 meters we start ascending to the Tizi n´Moudou Pass (2 300 m). Herds of goats and sheep often graze here, looked after by young female shepherds as is the custom in Saghro. From the pass, we are rewarded with panoramic views of Saghro and far beyond.
Before we start downwards again, we stop at the foot of the Bou Gafer Mountain, where the Berber people in the 1930s fought a battle against the French. Ruins of the French fortifications can still be seen here. We finish the day with a pretty steep, but still quite easy, descent to our campsite at about 1 900 meters, from where we enjoy the views of the Moudou Mountains.
Day five: Bou Gafer – Tenmelilt (6 to 6,5 trekking hours)
Leaving the camp in the morning we climb up to a small pass and then follow a track down into the Oulilli Valley. We walk past a deserted mine and soon thereafter through a beautiful ravine. A small river bordered by trees flows through the valley. We pass a few more nomad settlements, and in the valley below we spot the village of Oulilli, surrounded by terraced fields where the locals grow barley, almonds, and figs.
We walk on up a gently ascending slope to the Tizi n´Teifst Pass at about 2 300 meters. Shortly before the pass the path levels out and the views become wider. A short detour to a viewpoint gives us a panorama over the majestic and elongated M'Goun massif. Soon, after a short descent, we pitch our camp for the night in a fig tree grove.
Day six: Tenmelilt – Iknioun – Marrakech (approx. 4,5 trekking hours)
The last leg starts with a short climb to the outskirts of the village of Tenmelilt (1 900 m). We continue a few hundred meters up to a small pass and then down into a broad valley past cultivated patches. After a while, we reach a gravel road that takes us to the village of Iknioun, with a high school that attracts young people from both nearby and more distant villages. The majestic mountain massif Amalou N'Mansour, with its highest top at 2 712 meters, can be seen to the west most of the day.
In Iknioun we meet up with our driver who will take us back to Marrakech. The drive takes us through the Dades Valley, past Ouarzazate, and then on serpentine roads up over the Tizi n´Tichka Pass, arriving in Marrakech in the evening.