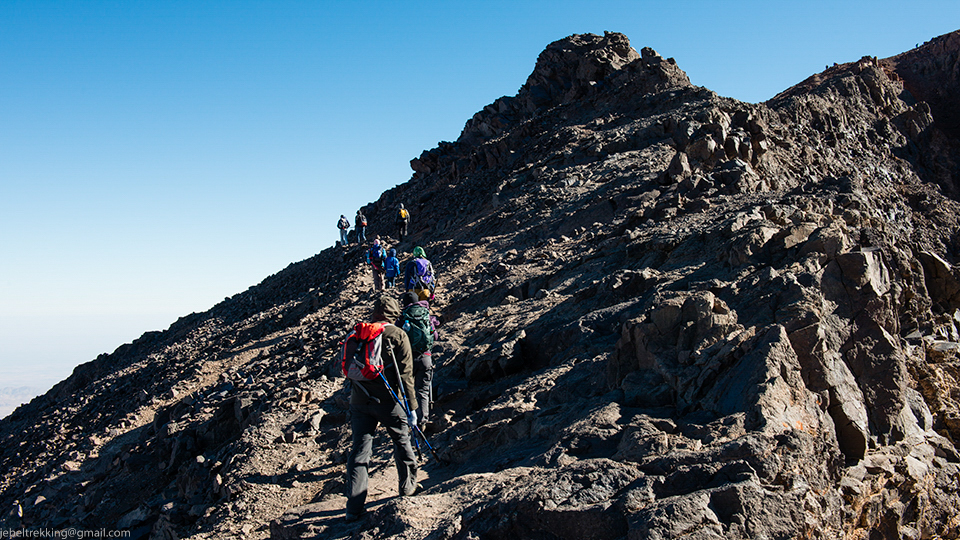 Climbing to the summit of Mount Toubkal
Mount Toubkal, 4 167 meters, is Morocco's and North Africa's highest mountain, and a climb to the summit is a real experience. Thanks to its position, Mount Toubkal is easy to access from Marrakech as well as places like Essaouira and Agadir.
The ascent to the summit is more like a strenuous trek than a real mountain climb, and you do not need climbing experience. However, to enjoy the climb you do need to be quite fit, with both stamina and staying power. During the wintertime crampons are compulsory and ice axes are recommended, but not necessary.
THE TOUR DAY BY DAY
Day one: Marrakech – Aremd – Mount Toubkal base camp (5 to 5,5 trekking hours)
The drive from Marrakech to the Berber village of Aremd takes about 1,5 hours. Armed is situated at 1 900 meters and is the starting point for our climb. Here we meet up with our mule drivers who will load up the mules for us.
The first stage of today's trek is a steady uphill walk on a well-trodden path in the Aït Mizan Valley. All around us we have beautiful towering mountain ridges. Along the way, we pass a pilgrimage site, which according to traditional beliefs, helps worshippers to fulfill their wishes or solve their personal problems. We also pass a small set of shops where we stop for a rest and some refreshments.
As we continue ascending, the valley broadens out and at 3 200 meters, we arrive at the starting point for our next day's climb to the summit. We go to bed early in our tent or in the dormitory of one of the mountain lodges.
Day two: Mount Toubkal base camp – Mount Toubkal summit – Aremd – Marrakech (10,5 to 11 trekking hours)
We get up before the break of dawn, have a solid breakfast, and then set out in the dark. The trail starts with a steep climb uphill and continues over boulders and scree slopes. The mountain is barren up here, its colors shifting in varying shades of grey.
For a while, the terrain flattens out slightly, but we are soon again climbing up a steep part that leads to a mountain crest, and great new views come into sight. For the last strenuous leg of our climb, we walk along the crest and all the way up to the top.
At the summit, the 360-degree views of the surrounding Atlas Mountains are breathtaking. Far down in the valley, we can spot the village of Armed. Weather permitting, we can even view faraway mountain ranges like M'Goun and Siroua.
After a well-deserved rest on the summit, we turn around and go back down to the mountain lodge at the base camp. There we enjoy a pleasant lunch break and then descend further to Aremd on the well-beaten path. From here we return to Marrakech.
Option to divide up the last day
For those who prefer to take it a bit easier, there is the option to spend a second night at the base camp and continue the descent to Aremd the following day. This shortens Day 2 to about 7 hours, and Day 3 will then be only 3,5 – 4 hours long, ending in Aremd. From there we return to Marrakech.
Extra options
It is possible to add an extra day for climbing two other summits in the Toubkal area; Mount Timezguida, 4 089 meters, and/or Mount Raz, 4 083 meters. The ascents to these summits are challenging, but more like strenuous treks than real mountain climbs.
After arriving in Aremd, you can choose to return to Marrakech directly or treat yourself to an extra night at the pleasant, welcoming Dar Toubkal guest house, from where you can enjoy the stunning views of Mount Toubkal. If you stay at the guest house, you can add a guided hike in the surroundings of Aremd. You will walk through villages and over mountain passes, with a picnic on the way, and visit a local Berber family.